A lifetime of sailing doesn't have to come to a sudden end.  The experiences of recreation on the water and handling the nuances of maritime travel can stay with the retiring mariner in unexpected ways.  Who could've thought that decades of dealing with the cumbersome accoutrements of aged Catalina cabins would lead to a thriving and satisfying business making teak furnishings for sailboats and other sailboat upgrades? That's exactly what happened with Cruising Concepts.

Nestled away on beautiful Orcas Island in the Pacific Northwest of Washington State, Cruising Concepts has been dealing in teak wood companionway doors, cockpit tables, and other accessory components for sailboats (especially for their beloved Catalinas) since 1989.  After wowing local Seattle boat owners with custom designs and yacht tables, with a mastery of hand and machine-crafted teak wood, Cruising Concepts started taking orders from around the world.
The docks of Puget Sound brought thriving business to the growing startup company, spurred on by its multi-national clientele's networking through annual boat shows.
Coming to Orcas signaled a departure from the market immersion that Cruising Concepts enjoyed down sound, but the future held more possibility than the city could ever bring.  From the beginning Cruising Concepts had invested in online networking and digital design technology and as the internet roared to life they were in the perfect position to enter a growing global market.

Since their arrival on Orcas, Cruising Concepts has supplied vendors, businesses, and personal clients with numerous teak designs for companionway doors, cockpit tables, boarding ladders, and even entertainment and shelving units.  Expertise in digital design and flexible manufacturing is clear in the inlaid designs, made from solid teak wood, which Cruising Concepts routinely produces.  Their passion for teak wood crafting could make anyone excited about these masterpieces; and they aren't picky about their work.
The personal connection with customers that Cruising Concepts is careful to grow ensures that the customer's design specifications are met to the letter.  If a customer is unsure about what they might want or need, a quick phone call will enlighten them on the best options for any job on a sailboat, yacht, or other work site. No one can walk into a meeting at Cruising Concept's and not come out just a little jealous of those lucky boat owners that have received teak designs in the past.
Acquiring a diverse, global clientele and the marketing and manufacturing experience needed to serve it only increased the passion for individualized teak designs, especially for the Catalina sailboats that were formative for the business' vision.  No set of companionway doors are the same, and no client is the same either.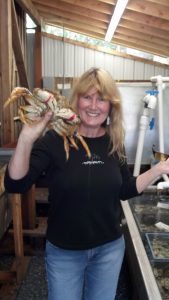 This knowledge drove Cruising Concepts to pursue flexible manufacturing and a personally invested approach to customer service from the beginning.  No customer is forgotten and every design is pursued as if it was going on the only sailboat in the world.
Woodcraft is still an active business, even in our modern society, and custom woodworking like these teak products are a gem worth looking for, especially on Orcas Island.  The Gem of the San Juans is known for attracting artists and designers of exceptional skill and impressive background, and once again Orcas has come through.  No service can provide teak wood products as carefully crafted, meticulously designed, and personally precious, as Cruising Concepts.