Our teak tables are fitted with Cruising Concepts' specialized undercarriage support.  All of our undercarriages are designed for stability and comfort, ensuring that leg space is minimally impacted and the table remains steady in rough weather.  Our dining and yacht tables come equipped with twin pneumatic pedestals mounted on teak feet.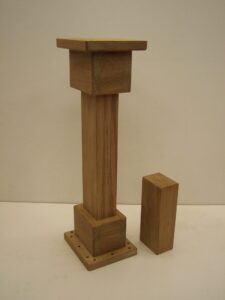 These pedestals can be operated from centrally installed controls allowing users to raise or lower the dining table at their preference while ensuring that the table remains secure after any adjustments.  This enables our dining tables to be set to sleeper position, or appropriately raised and lowered to comfortably accommodate diners of any age and height.
For smaller interior tables we can utilize hi-lo pedestals, providing fully adjustable height and allowing the tables to be stowed in sleeper position.  When combined with our single or dual-leaf designs our cockpit and dining tables offer the perfect medium of usability and stowage, facilitating your space needs for dining, entertainment, and relaxation.  All of our pneumatic pedestals are of thick and robust aluminum construction, designed to attach to an aluminum base with teak wood covering to minimize aesthetic interruption and increase durability.  
By customer request, we can also design tables to attach to the main mast of a sailboat, be secured to the transom, or fitted for whatever space the customer would like to finish out a sailboat upgrade.
Cruising Concepts has designed tables for fixed or mobile installation and can design free-standing table pedestals and feet with sufficient weight and size to preserve balance on the open waters.
We also carry our skill at teak crafting into designing table pedestals.  By customer request Cruising Concepts can design full teak pedestals for interior cockpit tables.  These pedestals do not include pneumatic properties, but are durable and precisely crafted to match the table aesthetics.  
Cruising Concepts is proud to make sure every aspect of your teak table satisfies you in design, usability, and convenience, and we'll make sure each component is perfectly built and implemented.