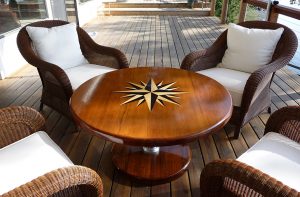 A finished teak dining table is the culmination of class for a yacht or sailboat.  Cruising Concepts has been crafting sailboat upgrades, teak yacht tables, cockpit tables and furnishings for recreational boating uses since our inception and our accrued portfolio of work has given us experience with any cabin or deck dimension.
Our dining table designs are perfectly measured to ensure the right balance of seating room and surface space.  We're very proud of our folding table designs that cut storage space in half and enable dining tables to be stowed in sleeper position.  All folding tables come with stainless steel hinge plates that are installed flush with the table surface, minimizing any disruption to aesthetic or function.
All of our dining tables come standard with pneumatic aluminum legs in single or dual pedestal designs.  The table feet are crafted from teak to match the table's color and shape.  When requested we can also design teak legs, or fit the tables to attach directly to the main mast or the transom.
The size and versatility of folding dining tables enable a variety of inlaid design options, such as mirrored inlays on the top and bottom of the folding leaves.  All of our inlay designs are graphically plotted and machine cut to ensure perfect symmetry.  Don't settle for a mundane accessory in your pleasure craft!
We also supply dining and yacht tables made from sturdy starboard plastic, complete with stainless steel reinforcement, hinges, and legs.  We recommend that starboard tables be designed for folding, but are happy to construct whatever tables you desire.
For outdoor and indoor dining our tables are a perfect fit for sailboats (particularly Catalinas) and yachts.  Please contact our office to see what design options are available for you.  It's our pleasure to ensure your table needs are met to your exact specifications.