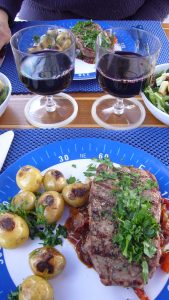 Hello,
My wife and I met you at the recent Boat Show in Seattle… and I promised to send you some photos of your Cockpit Table installed aboard the S/V Alchemyst – a 38′ Bavaria Center Cockpit Ocean we crew for the boat's owner.
And I finally got a chance to dig out some shots … but all of them feature meals served on your table… and I don't have any that show the table itself and the way we installed it.
I will take some pix of the table as soon as the sailing season begins …but I thought you might get a kick out of seeing how your table is used when we are cruising.
Your table is obviously the center of all things gustatory on board on board the S/V Alchemyst.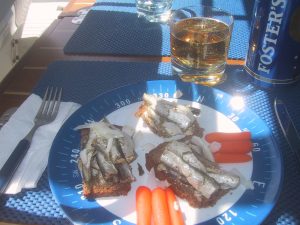 It is where our guests gather at the end of a day of cruising to enjoy drinks followed by dinner … or just a place to hang out for a game of scrabble…
The cockpit table is sturdy and obviously well made. After 6 years of hard use, it still looks brand-new. Our guests comment on the elegant look of the teak and ash wood you used to craft it.
Cruising Concept's Cockpit Table is highly recommended by Captain Claus Cruises!
Sincerely
Claus
OKAY EVERYONE FIND THE TABLE.
Signed,
Dr. Teak